Dave's Albums of the Year 2015
That time of year again. It's good fun sifting back through the best of the new stuff that was released in 2015. These are some of the albums that I really enjoyed – I reckon there's some crackers. Hope there's something in here that will appeal to you. I've linked to most of the albums through bandcamp etc. so you can listen more easily – if you like 'em buy 'em and support the artists. I haven't bothered with a 1 to 50 ranking – pick 'n mix.
Blank Realm  –  Illegals in Heaven
It's easy to underestimate Brisbane's Blank Realm. The first time you hear this album it kind of slips past pleasantly enough. It is spiky and energetic post-punk/new wavy stuff and certainly doeasn't reinvent the wheel. But here's the thing, the songs are really excellent and a couple of plays later when the hooks are in they stay in. This is a better album than last year's Grassed In – also a slow-grower and you get the feeling that they are a band really hitting their stride.
Bop English  –  Constant Bop
Bop English is the (fairly poor) name for this solo project of James Petralli, frontman of the excellent White Denim. That band can be a bit experimental – usually successfully mind you. This isn't though. it's just a collection of really excellent breezy pop rock. No slow growing here, play it once and you're in. I listend to this one a lot all year.
Bully  –  Feels Like
Ah, impetuous youth. Bully are a young band. Their endearingly shouty female lead singer sings about breaking her sister's arm, and about having periods and everything. The music is excellent punky alt rock.
Car Seat Headrest  –  Teens  of Style
Another ridiculous band name. What next? Bathroom toothbrush holder? Again though don't be put off. Will Toledo – the prodigy behind the car seat – can write a cracking tune. He's one of these lo-fi kids who knocks out 20 albums in their bedroom before they're 12. Anyway this is a proper recording of all his best songs to date in a real proper album and it's really rather special. From the opening line "I hadn't looked at the sun for so long I'd forgotten how much it hurt to"  you're in. Not a duff track on it (well, one). Mark my words, this kid's gonna go far.
Circuit Des Yeux  –  In Plain Speech

A late addition. This mysterious and increasingly epic record hasn't quite finished unfurling its charms. It sounds different every time I play it. Sweeping operatic vocals, lush orchestration and the setting to tune of that "For the want of a nail" nursery rhyme under the title "A Story of this World". One thing's for sure Circuit Des Yeax's world is a strange and alluring place indeed.

Circle  –  Pharaoh Overlord
Hmmm. I'd never heard of this lot. Apparently they are from Finland and have been knocking round since 1991. This is album number 31 according to Wikipedia so they've kept themselves busy. No idea what the other stuff is like – in fact I can guess – but this is rather special. There are 5 tracks ranging between 6 and 12 minutes in length. Atmospheric repetitive riffs, weird horns and chanting that sounds like it came from a Sergio Leone Western soundtrack. Then someone starts shouting and primal screaming and generally carrying on. Play. Repeat. Play. Repeat. I want to dig up all their other stuff but I'm a bit frightened what might happen to me.
Courtney Barnett – Sometimes I Sit and Think and Sometimes I Just Sit

Courtney Barnett likes words. She packs her songs with them. She favours that song-speech delivery that works so well for Craig Finn, Patti Smith, Jonathan Richman and despite having some terrifric songs it is all about her and her brilliant lyrics. She makes mini-epics of the everyday and gets you to look atthings in a different way as a result. This is a terrific debut from the young Australian. Expect greatness.

D'Angelo – Black Messiah
Some  people don't have to pay any attention at all to what anyone else is doing, just trusting their own vision and instinct. That's what D'Angelo has done here, crafting something unique and timeless. The recordings sound almost off-the-cuff and songs kind of drift into life then lock in and eventually soar. Reminds me of Prince, not so much musically, but in his commitment to his own sound. He waits 14 years between albums doesn't care less about what's current and up-to-date in R&B, and knocks out a gem of a record. Respect.

Death and Vanilla  –  To Where the Wild Things Are
Death and Vanilla are all about vintage equipment. Vibraphones, mellotron, I bet there's even a Theremin knocking around somewhere. They use these to make catchy but spooky music that's a bit like 1970 children's TV crossed with Hammer Horror. Outwardly sweet but you know there's a pin going into a doll somewhere in the background.
Domovoyd  –  Domovoyd
Epic, massive riffage. huge long-building metal opuses. There's even a spoken word piece that sounds like some sort of spell or ode to the devil. But since it's not in English it might just be someone reading out their shopping list. Whatever, it's huge, it's heavy, it's Domovoyd.
Ecstatic Vision  –  Sonic Praise
Philadelphia's Ecstatic Vision are here to remind you that Lemmy was in Hawkwind before Motorhead. No airy fairy stuff for this lot. A happy stew of hard psychedilic rock. Play loud.
Ekoplekz – Reflekzionz
More off-kilter electronics from the excellent Ekoplekz..A more chilled out affair than last year's Unfinity but intricate and involving nontheless. Go here to have a listen.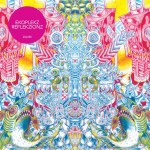 Follakzoid  –  III
When I was praising Follakzoid's last album (it was called II amazingly) I said they came from Sweden. Turns out it's Chile they hail from. they are at the vanguard of the Chilean psych scene – apparently. I'm just happy that Chile has a psyche scene. This is brilliant and one of the best things I heard this year. Instrumental, not too heavy, hypnotic.
Godspeed You! Black Emperor  –  Asunder, Sweet and Other Distress
Fierce emotionally involving instrumental post-rock. Godspeed You! Black emperor wrote the book on it. Their flame has never dimmed and this is them doing what they do best. Their sound seems more Eastern influenced, to me at least, with each new release.
Grasscut  –  Everyone Was a Bird
One of my discoveries of the year. Grasscut use an electronic palette to paint a music richly evocative of place and environment. An absolute belter of an album. Their two previoues albums one inch/1/2 mile and Unearth are well worth a go too. Intriguingly there's a little bit of Chameleons in there.
Guy Garvey  –  Courting the Squall

Old Guy Garvey doesn't seem to have been changed or mellowed by the success of his main band Elbow. He's still wryly self-aware and writing arch and poignant lyrics. He effortlessly rises above the trudging masses of po-faced British bands trying to make exactly this kind of stuff and failing. Good lad.
Gwenno  –  Y Dydd Olaf
Wales. Must be something in the water. Gwenno writes cherrily off-kilter poppy tunes. Remind you of Cate Le Bon? Remind you of Super Furry Animals? That's not to say that this is derivative, it is just a sunny and compelling summery album. It's in Welsh, but who cares?
Haiku Salut  –  Etch and Etch Deep
This Derbyshire three piece mix classical, electronica, folk and a bunch of other stuff into a pleasing instrumental whole.
Henry Blacker  –  Summer Tombs
Dirty, greasy rock music. Henry Blacker are a British trio who owe influence to the likes of Queens of the Stone Age and even ZZ Top. But they chew up and spit out these influences into something pleasingly feral. The bit in the middle of "Shit Magus" where the lead singer stops and just mutters "fuck's sake" is the best ever definition of the term Rock 'n Roll.
Hey Colossus  –  In Black and Gold
Hey Colossus continue to emerge from the underground with not one, but two albums this year. They state that they have a responsibility to their fans to continue making and releasing new music. You have to love that. This, their first 2015 album, is less extreme than some of their earlier stuff and demonstrates their increasing mastery of restraint as a weapon. There are a couple of instrumentals where not much happens, eerily, and of course some riff-heavy beasts like Black and Gold. For me it's the better of the two.
Hey Colossus  –  Radio Static High

The second 2015 Hey Colossus release is almost pop by their standards (if maybe not everyone else's). There's even songs on there for goodness sake.
Holy Sons  –  Fall of Man
Holy Sons is the work of Emil Amos, member of the mighty Grails and Om. To say his solo work is different from those bands is understating the case considerably. It creates a weary washed-out 70's singer-songwriter influenced sound – the nearest recent comparative has to be the excellent Relayted by Gayngs . This is a complete success, rising well above pastiche into a compelling and distinctive record.
Joanna Newsome  –  Divers
Everyone loves Joanna Newsome. An incredibly gifted harp-player with an astonishing voice who makes album after album of intricate folk-epics with words you have to look up the meaning of. Attractive, popular and now also a Hollywood star. Am I making you feel nauseous? The thing is, she is really good. This is a really good album – can't fault it. What can I say – I'm a fan.
Julia Holter  –  Have You in My Wilderness
There are some lovely songs here, intricate arrangements – and it all sounds effortless. That's what gifted folk do I think. A delightful album.
Kagoule  –  Urth
Nottingham's Kagoule make fierce stop-start 90's influenced alt rock. I really like fierce stop-start 90's influenced alt rock. I really like this band and this album. Thing is, you have to sound like something, so who cares if you use a musical style that has been successful before – if it works do it. Why try and reinvent the wheel? – the wheel works. One of the best of the year this one.
La Luz  –  Weirdo Shrine
La Luz are a Californian all girl band who make dreamy surf rock. Not the sort of thing I usually care for but this is a sneaky little album that creates a little universe of its own. There's the vague sense that there's more going on than meets the eye and this uncertainty creates a delightfuly macabre background to what should just be breezy pop. Nice trick.
Low  –  Ones and Sixes
A testament to perseverance. Slowcore pioneers Low have for twenty-odd years stuck to the same aesthetic of slow, earnest semi-heartbroken music. Their great success has been to constantly evolve and explore every possible area of their chosen musical form. Every couple of years an album arrives. 2011's C'mon was real return to form and 2013's The Invisible Way, was just very good.
But this brilliant album is the best thing they have ever done. It's nice to know that that can happen to a band after 22 years. The main difference to their sound for this album is the use of a drum machine.  It works a treat, the rigid base gives a framework for their hypnotic songs to develop and build. And the songs are cracking – listen to "The Innocents".
Mark McGuire  –  Beyond Belief
Ex-Emeralds electronic musician Mark McGuire is a prolific guy. Last year's along the way was excellent but Beyond Belief sees him venturing into more vocal-driven, song-based music. It suits him well, his shimmering electronics marry up well with guitars and take him into M83 territory. this isn't a bad place to be at all.
Mbongwana Star  –  From Kinshasa
Boldly incorporating electronics and hip-hop beats into their sound works a treat for this Democratic Republic of Congo band. An infectious, forward looking African album.


Menace Beach  –  Ratworld
Gleeful alt rock from Leeds. Produced by a Hookworm. Catchy as hell with boy/girl vocals working a treat. It's got feedback bits, guitars, great hooks, wicked choruses and is terrific fun. Go on, click below, you'll thank me.


Midday Veil  –  This Wilderness
Spacey electronic folk rock with lovely female vocal harmonies. The closest forebears are Jane Weaver and School of Seven Bells.
Mikal Cronin  –  MCIII
Just carries on from where last year's MCII left off. Crisp, breezy, catchy songs. What more could you ask for?
Monolord  –  Vaenir
Sweden's Monolord make massive treacly doom metal. It's great.
Nathaniel Rateliffe & The Night Sweats  –  Self Titled
Now then. White boys do R&B. Shades of Dexys? No. More Blues Brothers if anything. You can't not like this stuff. Old Nathaniel has that huge cigarettes and alcohol voice that you need for this stuff and he has the songs too. All the family liked this, and I can't say that about much on here.
Nest Egg  –  Respectable
North Caolina band nest egg do a good job with this album of krautrock influenced psychedelia. Takes a couple of spins to get into then things begin to reveal themselves.
No Spill Blood  –  Heavy Electricty
Ireland's No Spill Blood make a just about accessible form of power electronics. They remind me a bit of 90's alt rockers Girls Against Boys, probably because there's a definite groove that channels their chaos.
Rival Consoles –  Howl
A really nice electronic album that harks back to the early days of Testone whilst bringing those single note synths into a warm and modern setting. Morning Vox is a brilliant track.
Sexwitch  –  Sexwitch
This was a nice surprise. I didn't hold out much hope for this collaboration between Natasha Khan of Bat for Lashes and members of Toy. But it is excellent, all Eastern instrumentation and chanting and spookiness. They should all give up their day jobs.
Speedy Ortiz  –  Foil Deer
Speedy Ortiz' second album carries on from their excellent debut delivering more fuzzy catchy pop-punk.
Sufjan Stevens  –  Carrie and Lowell
This is quite brilliant. A stripped back, almost unbearably honest album about Stevens's relationship with his mother and stepfather. Simple. But the kind of simple you need to hone your skills for many years to achieve. His best album, and that's saying something.
Suuns and Jerusalem in My Heart  –  Suuns and Jerusalem in My Heart
This is a very interesting collaboration between two very different sounding Canadian label mates (on the nicely-named "Secretly Canadian" label). Turns out the stylised angular rock of Suuns is a great fit for the Eastern experimentalism of Jersualem in My Heart.
Sunn 0))) – Kannon
Huge. Primal. Turn up loud and watch your fillings drop out. After the experimentation of last album "Monoliths and Dimensions" Sunn 0))) go back to creating stonehenge-like slabs of towering noise. Good for them.
Swervedriver  –  I Wasn't Born To Lose You
I never really got into the '90's Swervedriver.  Not sure why because this is excellent. Melodic shoegazy rock with some great songs.
Teeth of the Sea  –  Highly Deadly Black Tarantula
This was never going to be as good as the defining statement of their last album "Master". It's still really good though and sounds like nobody else. Atmospheric electronic industrial post-punk. Kind of.
The Body and Krieg  –  The Body and Krieg
Not content with just the tools of black metal to paint their scenes of horror and despair The Body have in the past collaborated with fellow misanthrope Haxan Cloak to bleak effect. This time they work with Krieg to create a really hideous and disturbing racket. Recommended for clearing bookshops at closing time.
The Clientele  –  Alone and Unreal
This best of compilation draws deserved attention to a band that has until now been criminally neglected.
The Decembrists  –  What a Terrible World, What a Beautiful World
It doesn't always work for Decembrists – who are at least brave enough to keep changing and expirimenting. Not everything on here is great but the first and last tracks are epic, and there's some stand out moments in between.
Tiny Fingers  –  The Fall
Israel's Tiny Fingers work in that middle ground where electronics and guitars mesh together. And they've achieved a very distinctive fusion. the bass is more to the 'fore than the guitar in their instrumental rock-tronica and this is an individual and characterful album.
Torche  –  Restarter
Before Torche existed most people wouldn't have thought there was a happy ground in the middle of guitar pop and sludge and doom metal. But thankfully there is, and it is where Torche live. They have a great ear for a tune and their catchy, speedy music is a hell of a lot of fun.
White Hills  –  Walks For Motorists
New York psych-rock duo White Hills are prolific. Too prolific. They run at an album a year. But every album since 2010's magnificent "White Hills" has had a few little hiccups between some admittedly great moments. Not this one though. This is a belter. They have incorporated fierce electronics into their guitar driven rock with excellent effect. Driving opener "No Will" sets the tone and there's no let up. Great title too. The accompanying "Drives for Pedestrians" EP is very good too.
Wire  –  Wire
Wire can do no wrong, OK? This is (yet) another excellent album. Now well into the third stage of their career. They exude this wonderful world-weary wisdom. So they were the most essential band in England in 1977 and in 2015. Some achievement. the fact that this album is their first self-titled one tells you all you need to know. Wire are where they want to be.

Wolf Alice  –  My Love is Cool
A young Indie-pop band that make super-catchy indie-pop. Suspend your cynicism and give it a listen, it's good.
Young Fathers  –  White Men are Black Men Too
"You live your life like a bubble-wrapped egg", Young fathers inform us. Line of the year. Typical of the very individual style of these low-fi Scottish DIY hip-hoppers. I wasn't really sure what to make of their debut but this second album is unique, funny and a complete breath of fresh air.
So there you go. Hope you found something new to listen to.